Yes, dream bars. So dreamy, in fact, that more than one person has dubbed these "the best thing I've ever eaten." So dreamy, I tell you, that for his birthday last year, the manfriend said he wanted these instead of birthday cake. And so dreamy, I challenge you to have just one. Seriously, you'll have to harness all the superpowers of all the Avengers to restrain yourself.
I don't remember what magazine in particular this came from, but I do know I saved the torn-out page when I moved a few months ago. I do remember that it was one of those impulse buys I always made at the Publix (oh, Publix, how I miss thee) checkout counter. I just can't resist glossy pages full of shoe porn  – let alone ones with dozens and dozens of pictures of food. I know this recipe is an amazing one because, of all the times I have made these bars, I have never changed a thing. They are seriously chocolate-peanut butter heaven.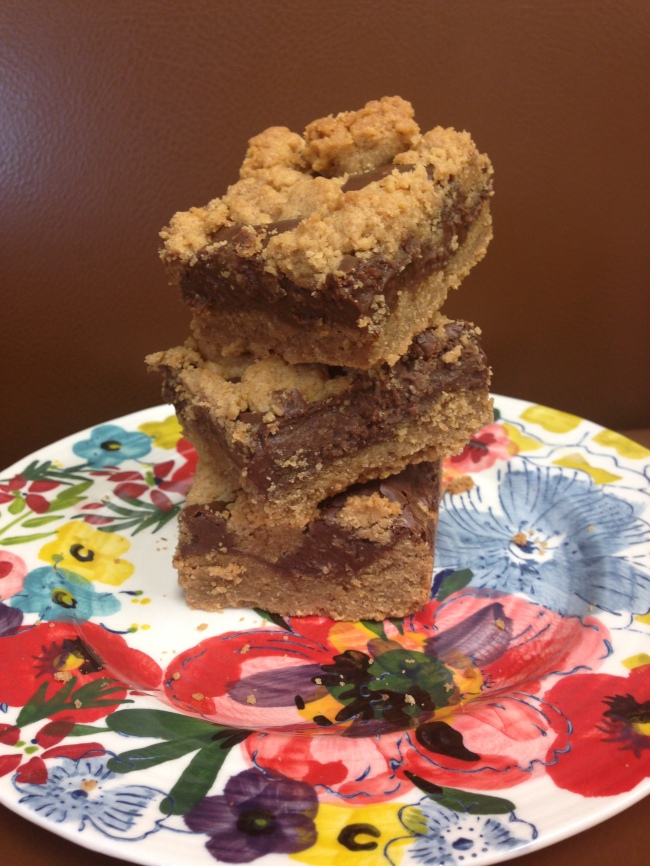 These bars are chock. Full. Of peanut butter. Look at them – two layers of thick, soft, and decadent peanut butter cookie-like dough sandwich a layer of creamy chocolate that Willy Wonka himself would be proud of. The top and bottom peanut butter layers are made of the same dough – it starts with lots of butter and brown sugar and becomes very close friends with two entire cups of thick and creamy peanut butter.
Once the first layer of this deliciousness is down in the baking pan, you'll positively slather it with a half-inch of chocolate and sweetened condensed milk that you've melted to perfection. It's a thick liquid that bakes into a texture that holds a bite and shape but is somehow incredibly, fudgy soft. These bars are altogether so soft and moist and yummy and satisfying and…yup, dreamy. Stuff-your-face-with-no-shame dreamy. Make them. You're welcome.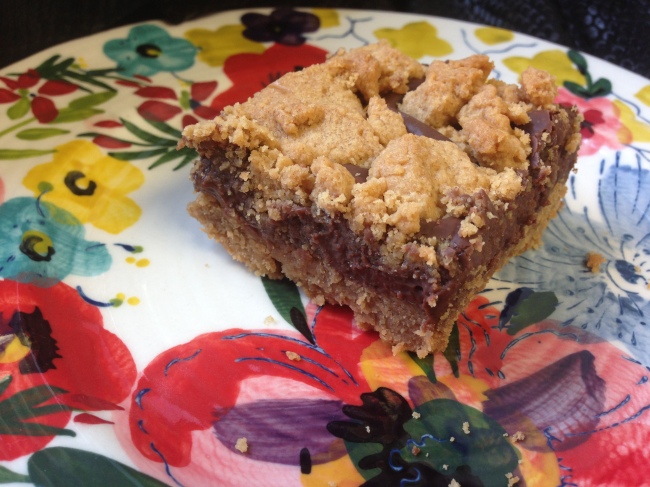 peanut butter chocolate dream bars
yields 24 bars
ingredients
1 cup (2 sticks) unsalted butter, softened
1 ½ cups brown sugar, packed
1 teaspoon baking soda
½ teaspoon salt
2 eggs
2 cups creamy peanut butter
2 teaspoons vanilla extract
3 cups all-purpose flour
1 ½ cups semisweet chocolate chips
1 14-oz. can sweetened condensed milk
2 Tablespoons butter
2 teaspoons vanilla extract
directions
1. Preheat oven to 350°. Line a 9×13 baking pan with aluminum foil, leaving a few inches of overhang. Coat with nonstick spray and set aside.
2. In the largest mixing bowl you've got and using an electric mixer, beat the butter for 30 seconds. Add brown sugar, baking soda, and salt, and beat until combined. Beat in the eggs, peanut butter, and vanilla extract, scraping sides and bottom of bowl as needed. Gradually add in the flour and beat until incorporated – the dough will be extremely thick, so you can mix in what you can with the electric mixer and do the rest with a wooden spoon. Set aside 2 cups of the dough.
3. In a saucepan over low heat, melt together the chocolate chips, condensed milk, and 2 Tablespoons of butter until glossy and smooth. Remove from heat and stir in the rest of the vanilla extract.
4. Pat down the peanut butter dough into the bottom of your prepared baking dish. Pour the melted chocolate mixture and smooth evenly. Drop the 2 reserved cups of dough in spoonfuls over the top of the chocolate.
5. Bake for 30-35 minutes, until the top is light brown. Cool in the pan on a wire rack. Once cooled completely, lift out the uncut bars using the foil overhang. Cut into squares and dig in!
Note: I have had success freezing these for 3 months. Wrap individual, completely cooled bars tightly in cling wrap and freeze in a Ziploc bag. To enjoy later, just take out what you want and let the bar(s) sit on the counter for 20 minutes! Delicious snack served.
Enjoy!
R
Advertisement
Share this:
Like this:
Related