I've done it again – and by it, I mean fallen prey to the sweet siren calls of cinnamon. How can you not be obsessed with the way it perfumes your entire house and makes everything taste better? Last night, I wanted to make something that featured cinnamon – and what better way to do that than with cinnamon-carb-something?
You've seen my parmesan-kalamata quick bread recipe. Quick breads are very simple to make – there is no wait time involved, since you'll use no yeast. This cinnamon swirl white chocolate quick bread uses only baking powder to leaven the batter. Quick breads are also usually incredibly moist. Things like milk and oil do wonders for adding moisture to baked goods. Butter will give incredible flavor, but for a nice, almost-sticky crumb, you want oil!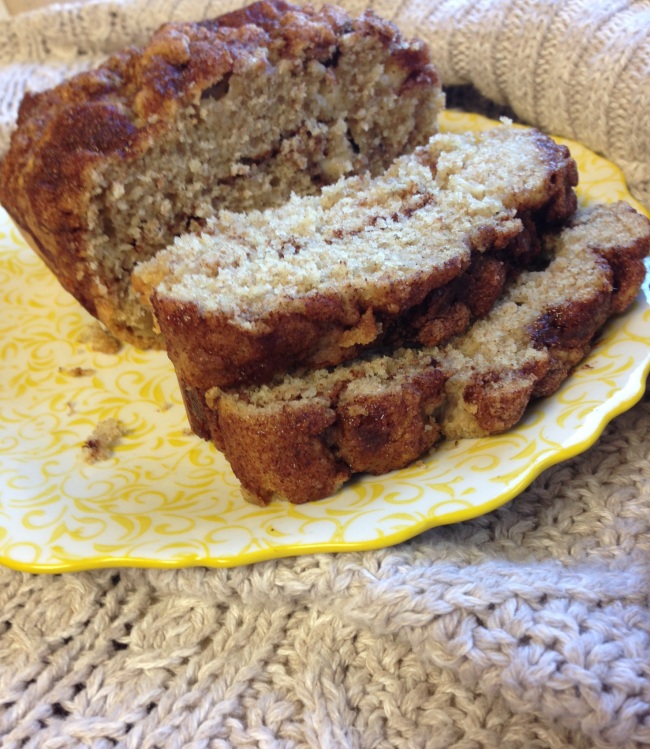 This particular bread has a wonderfully crunchy, cinnamon-sugary lid, which you'll get by sanding the whole top of the loaf with the sweet stuff! The entire inside of the loaf is also positively ribboned with the same amazing cinnamon-sugar mixture. I added no sugar to the actual batter and kept the sweetness restricted to the ribbon and crunchy top. Trust me on this one!
Last minute, I also threw in some white chocolate chunks to the batter. And let me tell you, that was a good decision – although milk/semisweet chocolate goes great with cinnamon, I found with this loaf that white chocolate made the cinnamon sing! Most of the chunks somehow dissolved into the bread, so while tasting the bread, I almost forgot the white chocolate was in there, but I was also distinctly aware of something amazing and subtle in the background that perfected the cinnamon glory! Make this, try to restrain yourself by keeping the cooled loaf wrapped overnight, and wake up with a smile knowing you have a delicious breakfast treat waiting for you!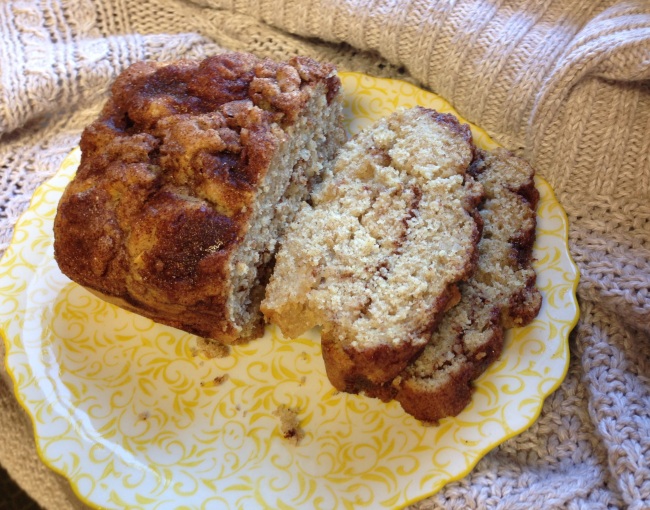 cinnamon-white chocolate quick bread
yields one 9×5 loafingredients
⅓ cup granulated sugar
1 Tablespoon cinnamon
⅔ cups whole wheat flour
1 ⅓ cups all-purpose flour (you can use 2 cups of all-purpose and omit whole wheat)
1 Tablespoon baking powder
½ teaspoon salt
1 egg, beaten
1 cup milk (buttermilk is best, but practically any kind will do!)
⅓ cup canola oil
4 ounces white chocolate chunks (I cut mine from a block)
directions
1. Preheat oven to 350°. Coat a 9×5 loaf pan with nonstick spray and set aside.
2. In a small bowl, toss together the sugar and cinnamon. Set aside.
3. In a mixing bowl, whisk together the flours, baking powder, and salt.
4. In a separate small bowl, combine the egg, milk, and canola oil. (I typically pour out the milk into a liquid measuring cup and mix the egg and oil right in.)
5. Pour the wet ingredients into the dry and add the chocolate chunks. Stir with a wooden spoon until just combined. You don't want to overmix!
6. Pour half the batter into the pan and top with half of the cinnamon-sugar mixture. Top with remaining batter, and then remaining cinnamon-sugar. Use a knife to swirl.
7. Bake for 40-45 minutes, until a toothpick comes out clean. Allow to cool in pan for 15 minutes, then invert the loaf onto a wire rack to let it cool completely. You can then cut your loaf – but the flavors are best the next day, as with most breads like this. Wrap it in cling wrap, tightly, and that's it!
Enjoy!
R
Advertisement
Share this:
Like this:
Related