The weather here in southern Louisiana is finally chilly! I was pretty much bed-ridden yesterday with the exception of watching Captain Phillips (must-see!) with the manfriend, who is here for a visit. Poor guy had to deal with me sweating up in fever, incessantly blowing my nose, and falling asleep at inappropriate times. But I was able to whip us up a yummy pumpkin breakfast, you know, to celebrate fall and the gift of anti-viral Kleenex.
The last time I made these pancakes was about a year ago – far too long. They are super simple and definitely deliver in the fluffy and tasty departments. Any pancake coming out of my kitchen will be about a half inch thick, crispy on the edges, and fluffy on the inside. Then, I stack a few pancakes hot off the griddle and smother them with just enough sticky-sweet syrup to make them sing. There is no other way to eat a stack of pancakes, if you ask me. One major tip is: do not overmix your batter. A few lumps are not only ok, they are better for the fluff factor of your pancakes. Another one is – don't let your pan overheat. You want the pancakes to cook through and develop a nice brown edge without burning.
These pancakes are hearty enough to keep you full for a few hours! Normally, pancakes just make me hungrier – but I added some whole wheat to the batter, and pumpkin is packed with fiber. This is a relatively healthy breakfast…and then, I had to ruin a good thing make it even better by drizzling an absolutely wonderful maple cream cheese glaze all over the pancake stacks. I think I've created a monster. I will be putting this on everything this fall. The glaze is sweet and decadent but not heavy at all! Please make your weekend a little happier by making these – pumpkin, spices, maple syrup, and sweet cream cheese? There has got to be nothing better!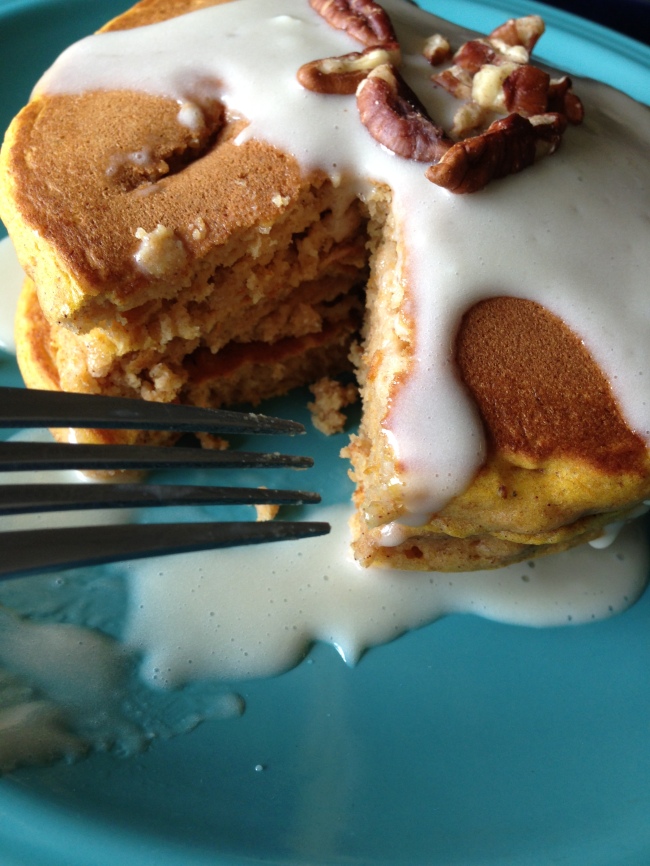 fluffy pumpkin pancakes with maple cream cheese glazeyields 5-6 pancakes (double this yield if you like small pancakes)for pancakes:
ingredients
½ cup whole wheat flour
¾ cup all-purpose flour (if you don't have whole wheat flour, use 1 ¼ cups all-purpose only)
2 heaping teaspoons baking powder
2 Tablespoons granulated sugar
1 teaspoon cinnamon
dash of ginger
dash of allspice
pinch of salt
1 cup milk (any kind will work, I used 2%)
¼ cup pumpkin puree (not pumpkin pie mix)
2 Tablespoons canola oil
1 eggdirections
1. In a large mixing bowl, whisk together both flours, baking powder, sugar, cinnamon, ginger, allspice, and salt. Set aside.
2. In a small bowl, whisk together the milk, pumpkin, oil, and egg until smooth. Pour this mixture into the bowl of dry ingredients and stir just until incorporated. Remember, a few lumps are fine!
3. For pancakes on the larger side (like the ones pictured), use a ¼ cup measuring cup to pour batter onto a preheated pan, using nonstick spray or butter as needed.
4. Let pancakes cook until bubbly, and then flip over and cook for 1-2 minutes more.for maple cream cheese glaze
I eyeballed this, and made it pretty sweet, since I hate the taste of cream cheese, so feel free to taste test as you go. You want a consistency that is thick but easily drizzled, like warm honey.
Whisk together 4 ounces softened cream cheese and ¼ cup confectioners sugar until smooth. Add a Tablespoon of milk and 2 Tablespoons of maple syrup, whisking until smooth. Drizzle this on everything. Enjoy!
RAdvertisement
Share this:
Like this:
Related