All day yesterday, I could feel myself slowly getting sick. I popped some Tylenol, drank a fizzy glass of Airborne, and even had chicken noodle soup (which I hate even more than Airborne) – but, alas, I woke up today looking all mouth-breathing-ly gorgeous. Those preventative measures, like scrubbing your hands frequently and wiping down your office with disinfectant and eating plenty of fresh fruit?
Lies, I tell you. All lies. There is only so much you can do. You will still sound like Darth Vader after walking up one flight of stairs, and your nose will run like it's a marathon.
Thank goodness for this weekend! It is much awaited, for so many reasons, but I guess I can add "taking some time to get better" to the weekend to-do list.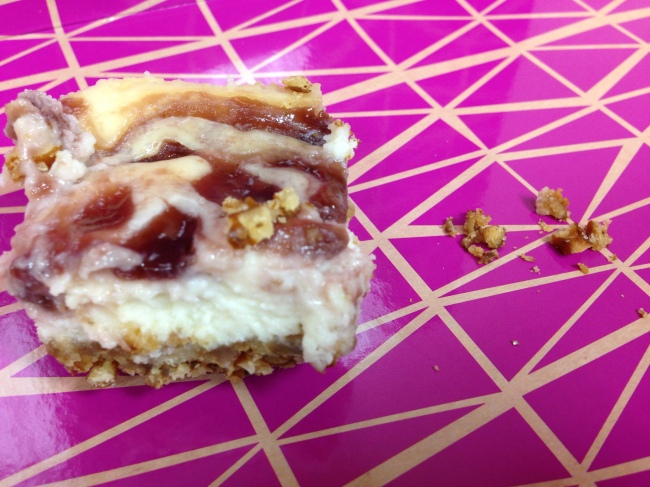 These cheesecake bars thankfully take little energy to make and helped make me feel a bit less miserable. If we haven't met, I should tell you about my adoration for all things salty 'n sweet (like these cookies). Not only am I big on texture contrasts, I am a huge fan of salty and sweet in one bite. There is just something so satisfying about fulfilling every craving with one recipe! These cheesecake squares fit the bill. I had run out of graham cracker crumbs a few weeks ago and never replaced them – I made a delicious Mexican hot chocolate cream pie to round off a dinner party I had thrown (pear and pepitas on greens with maple vinaigrette, garlic roasted asparagus, and pumpkin-mushroom risotto – I'm telling you, I love everything about food and love sharing it). Side note – I should and will share that pie recipe soon!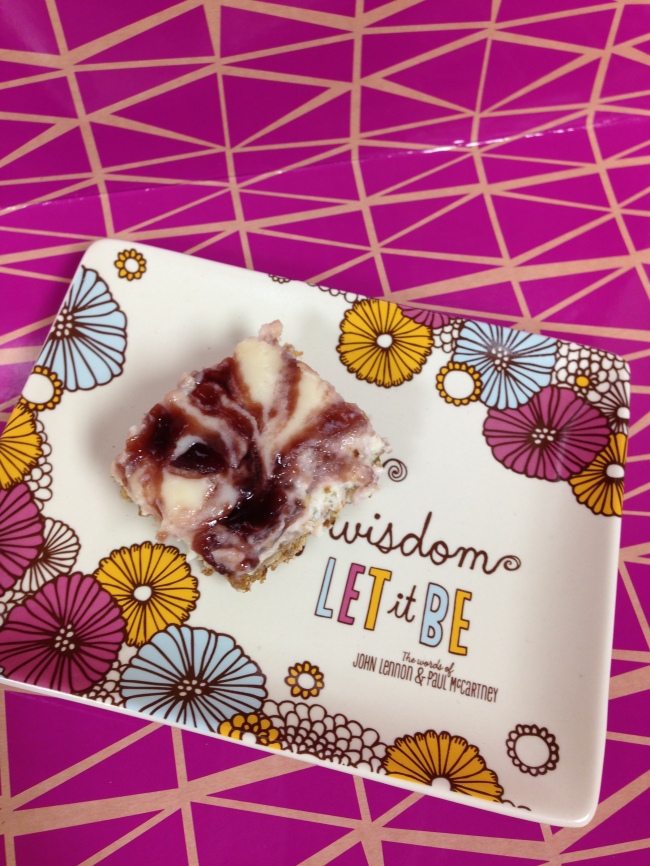 On one of my favorite trinkets – a gift from a former clinical supervisor. I love The Beatles, this was perfect!
Anyway, refusing to be defeated by my kitchen's graham cracker deficiency, I spotted the huge half-full bag of little pretzels I had lying in my pantry and took a rolling pin to them, tossed the crumbs in some melted butter and sugar, and made a crust. I topped the crust with a simple and bright lemony cheesecake filling that I swirled with raspberry jam and popped it in the oven. So good! The pretzels stay crunchy. Graham cracker crusts are delicious, but there is something so satisfying about a good crunch, and pretzels won't disappoint. Your teeth will just sink into the creamy yet light cheesecake layer on top that is sweet and fruity but has the teeniest hint of tang to it. Your only problem will be letting them cool and then sit in the fridge overnight before trying one!
raspberry-lemon cheesecake squares with pretzel crust
makes 16-20 squares, depending on how you cut them
ingredients
1 ½ cups pretzel crumbs*
7 Tablespoons melted, unsalted butter
2 Tablespoons granulated sugar
16 ounces cream cheese, softened
⅔ cup granulated sugar
1 egg
1 Tablespoon milk
juice of half a lemon
⅓ cup seedless raspberry jam
* I measured something between 2 ½ and 3 cups of whole mini pretzels into a big Ziploc bag and crushed them with a rolling pin. You could also use a food processor! You don't want them to end up like sand if you want them to maintain their crunch – tiny bits, for the most part, will be perfect.
directions
1. Line an 8×8 baking dish with aluminum foil, leaving some hanging over the edges. Preheat oven to 350°.
2. In a small bowl, toss together the pretzel crumbs, melted butter and 3 Tablespoons of sugar until the mixture is moistened (someone needs to come up with an alternative word for the M-word. Suggestions welcome). Press into your baking dish and bake for 12 minutes. Set aside.
3. While the crust is cooling, beat together the cream cheese and sugar until fluffy. With the mixer still on low, slowly add the egg, milk, and lemon.
4. Pour this mixture over the baked crust.
5. Heat the jam in the microwave until a little runny/easier to work with. Dollop over the cream cheese layer and swirl with a toothpick or knife.
6. Bake for 25-40 minutes (HUGE range, I know, but this time they took about 40 to set. You want the center to just barely jiggle).
7. Cool completely on a wire rack before refrigerating for at least 5 hours, preferably overnight. Lift out the aluminum foil and cut the cheesecake into bars or squares when cold. Store leftovers in the fridge.
Enjoy!
R xoxo
Advertisement
Share this:
Like this:
Related