I have never been the biggest pecan fan, but the last couple weeks have slowly converted me. I think it might be me wanting to embrace everything reminiscent of fall. And I'm cool with that. Pecans, I've realized, have a wonderful little buttery crisp when you bite into them, so I've eased into the whole pecan thing by throwing some chopped ones into my oatmeal some mornings.
Do it.
In other news, maintenance has come to fix my oven no less than three times since I moved here two months ago. It'll heat up to 300 (no matter what I set it to, mind you), and then decide to cool itself down. Like it's been working so hard. I have avoided baking or cooking things that require broiling or relatively high temperatures. Questionable life choice #687 of starting a baking blog during such time? Yeah…could have waited. But, after my fourth phone call during which I begged and pleaded held a rational conversation about the troubles of having an oven that just dehydrates everything, they replaced it with one that works!
It also has no window…but I am grateful and will stop complaining.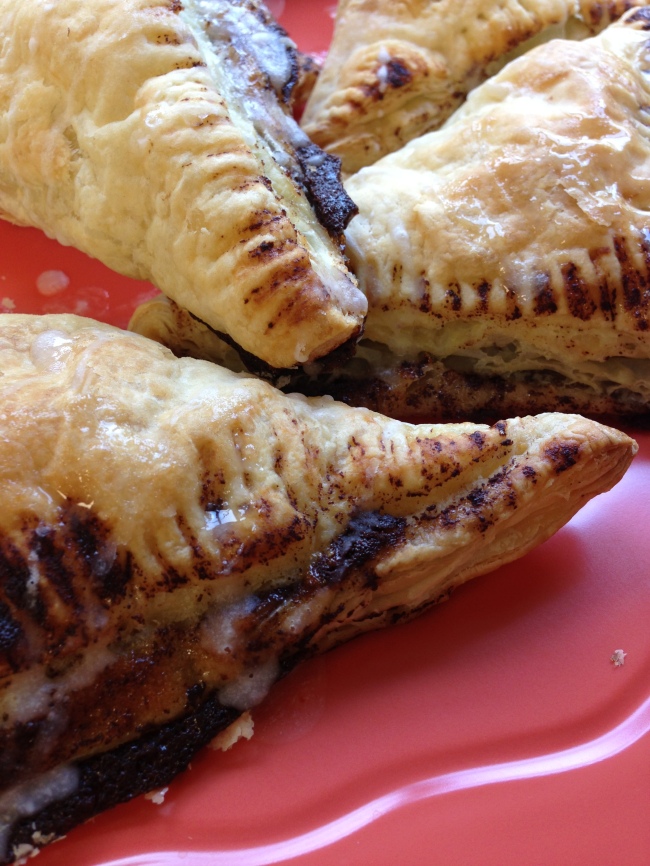 I knew I needed to put its capabilities to good use. I missed being able to really brown things, crisp things up, bake perfectly. So I decided to pull out the box of puff pastry in the freezer and make some turnovers. With my newfound affection for pecans, I felt a chocolate-pecan filling, not unlike the one you'd find in a pie (my mom makes a killer pecan pie), would be delicious. And delicious, it was.
The filling is so easy to make. All you do is melt up some chocolate and stir it into some eggs, corn syrup, and sugar. It sloshes around in your mixing bowl but magically bakes into a puffy, solid filling that is to die for. That being said, don't worry that it seems really liquidy – it'll seep out a little as you spoon it onto the pastry squares, but that's what parchment paper is for! Plus, you get delicious melty chocolate oozing out of the sides of your turnovers, permeating every bite of the pastry and making it taste de-licious.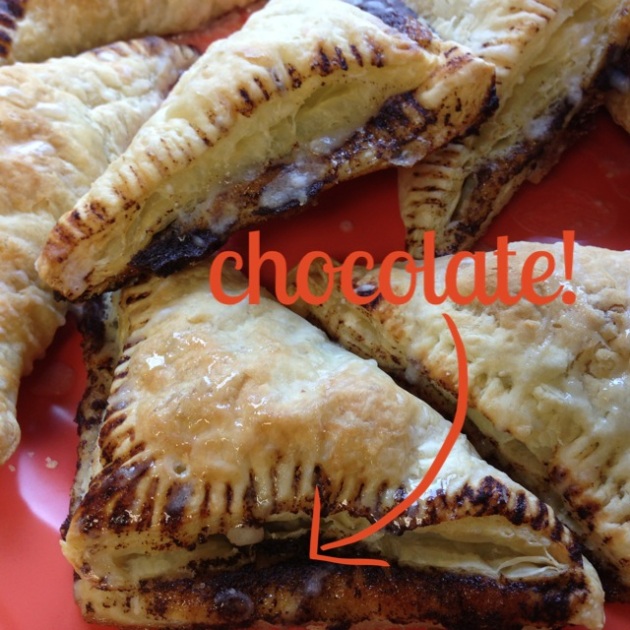 These turnovers were quick, delicious, and were still very tasty the next morning, when I drizzled a simple vanilla glaze over the tops. Do not skip the glaze – it makes these so bakery style, and who doesn't love the feeling of my-fingers-are-sticky-but-this-pastry-makes-me-smile? The turnovers reminded me a little of chocolate croissants and how the middles are just fabulous bites of soft dough that is filled with heavenly chocolate. A perfect way to kick off a lovely fall weekend, if you ask me!
dark chocolate pecan turnovers
yields 8
ingredients
turnovers
1 box of puff pastry, thawed (I used this, both sheets)
2 ounces unsweetened chocolate
2 eggs, lightly beaten
¼ cup granulated sugar
¾ cup corn syrup
1 teaspoon vanilla extract
⅓ cup chopped pecans
½ teaspoon cinnamon
pinch of salt
glaze (optional)
3 heaping Tablespoons of powdered sugar
milk, as needed
a few drops vanilla extract
directions
1. Preheat oven to 400°. Line two baking sheets with parchment paper and set aside.
2. Double-boiler style, melt the 2 ounces of chocolate in a bowl. (You could do this in the microwave, just be careful that it doesn't burn and check and stir every 15 seconds.)
3. In a separate mixing bowl, stir with a wooden spoon the eggs, sugar, corn syrup, and vanilla extract. Add in the cinnamon and salt and combine.
4. Slowly pour in the melted chocolate while stirring continuously. Add the pecans.
5. Cut each puff pastry sheet into four squares (I used a pizza cutter). Lay out four squares onto each baking sheet.
6. Working one at a time, spoon a few tablespoons of the chocolate-pecan mixture onto each square. Fold over into triangles and use a fork to crimp the edges shut. (An additional optional step would be to lightly beat an egg and brush the tops of each turnover with the egg wash. I did this – it helps give them a nice color.)
7. Bake for 15-20 minutes, until the pastries are puffed and golden-brown.
8. Once cooled completely, whisk together the ingredients for the glaze and drizzle over the turnovers.
Enjoy!
R
Advertisement
Share this:
Like this:
Related