We've already discussed my peanut butter problem. This weekend has been no exception to my having intense peanut butter cravings. My breakfast today was a big bowl of oatmeal that I swirled with a couple heaping spoonfuls of the stuff. Peanut butter just makes everything so much better, don't you agree? After savoring the last bite of my oatmeal, I realized I wanted even more.
I guess this constitutes a clinically significant addiction.
Cookies would solve this dilemma, I decided. Cookies are so fun to make. They take little time to whip up, and a single cookie can have so many different flavors in one tiny package. Peanut butter and oats, as we now know, go wonderfully together. Add cinnamon and chocolate chips? I will love you forever. This recipe is easy-peasy (look, mom, no mixer!) and really hits the spot when you want a wholesome and comforting, but still delicious as all heck, cookie.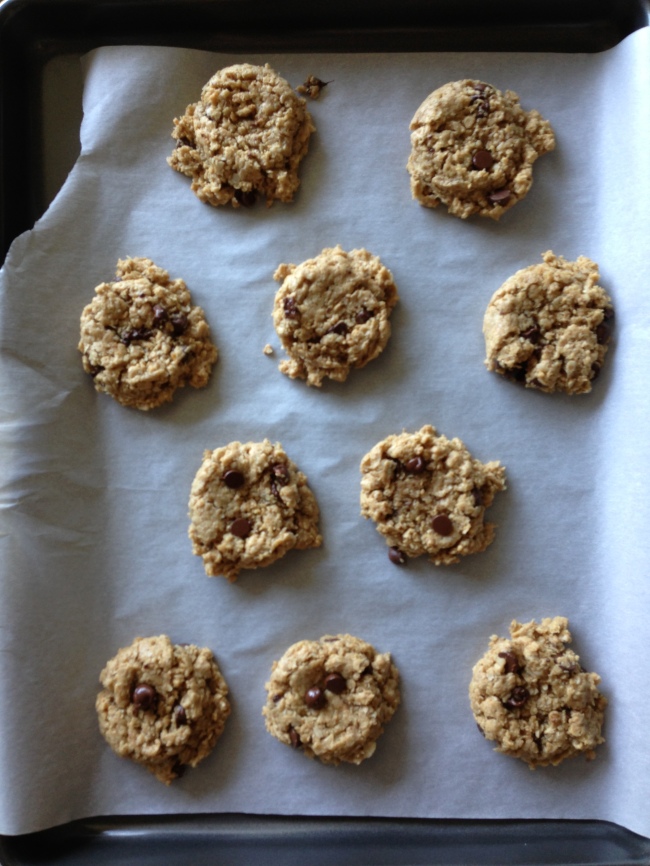 A lot of oatmeal cookie recipes call for rolled oats – this one uses quick-cooking oats. Rolled oats, I prefer to use when making oatmeal. Quick-cooking oats, on the other hand, I don't really like at all. I like chewy oatmeal that has big oats that I can see; quick-cooking oats make a much softer bowl of oatmeal, one that I find mushy. I mistakenly grabbed a huge bag of the quick-cooking stuff a few weeks ago and was thrilled I could put it to use in these cookies! (I suppose you could pulse rolled oats in the food processor and make the flakes a bit smaller, if that's all you have on hand – but I have never tried to do this. Just never use instant oats/ones that come in a packet.)
The original recipe calls for ½ cup of granulated sugar and ½ cup of brown sugar. Although this is what I used, I found the cookies could stand to be a little less sweet (they were still amazing, so you can keep them on the sweet side and be content!). This is probably because the peanut butter has plenty of sugar in it already. I have a strange affinity for the gritty texture of natural peanut butter, the kind with no added sugar or oil, and the kind you have to keep refrigerated. But, a word of caution! When baking, unless the recipe states otherwise, always use the classic stuff – I usually use this brand. The gritty stuff has to be refrigerated to prevent separation, so you can only imagine what it'll do to your baked goods! Go for the Jif instead. Anyway, the recipe below lists a range of sugar measurements – I would probably do ⅓ cup of granulated sugar and keep the brown sugar as is. It helps the cookies bake up soft.
Moving on from my Bill Nye-esque moment, the texture and taste of the cookies is outstanding. I love how oats add a certain type of bite to baked goods, and the peanut butter and chocolate flavors really shine through – there is plenty of peanut butter in each bite! Don't hesitate to make these! They'll take you back to a more carefree time and will put a smile on your face.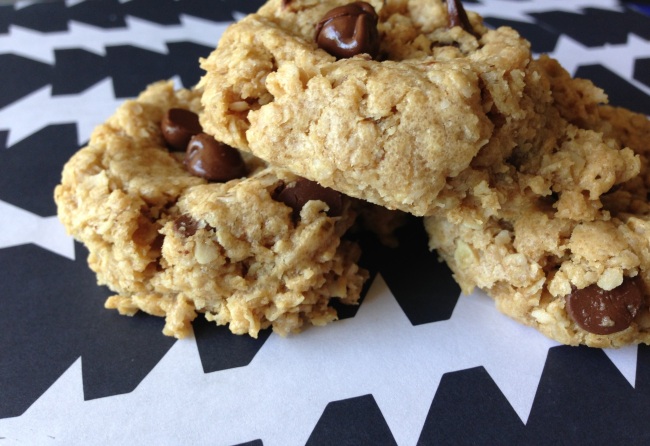 peanut butter oatmeal cookies
(adapted from Sally's Baking Addiction)
yields about 18 cookies
ingredients
¾ cup all-purpose flour
¼ teaspoon salt
½ teaspoon baking soda
½ teaspoon baking powder
½ teaspoon cinnamon (optional)
½ cup unsalted butter, melted and slightly cooled
⅓-1/2 cup granulated sugar
½ cup brown sugar (I used light)
1 egg
½ cup peanut butter
2 teaspoons vanilla extract
2 cups quick-cooking oats (not instant)
1 cup semisweet chocolate chips
directions
1. Preheat oven to 350°. Line two baking sheets with parchment paper.
2. In a small bowl, stir together the flour, salt, baking soda, baking powder, and cinnamon, if desired. Set aside.
3. In a large bowl, whisk together the melted butter and both kinds of sugar until smooth. Add the egg, peanut butter, and vanilla and whisk until combined.
4. Pour the dry ingredients into the large bowl and stir together. Fold in the oats, and finally the chocolate chips.
5. Scoop out 2-3 Tablespoons of the dough per cookie and stagger the dough balls onto your baking sheets.
6. Bake for 12-13 minutes. I found the cookies to be too round and ball-like, so I pressed down on them with the back of a spoon right after I took them out of the oven.
7. Cool on the baking sheets for 10 minutes and then transfer the cookies to a wire rack to cool completely.
Enjoy!
R
Advertisement
Share this:
Like this:
Related