Come fall, I live in constant fear of not finding pumpkin puree in grocery stores. It happened to my mother once – not a single can in sight. She's a smart woman, so she whipped up pecan pie and apple cake instead, not even thinking twice.
But me? I live in fear.
Beginning in spring, I buy cans of the Libby's stuff and just hoard them in my pantry. Come over in June, sometime, and I'll make you pumpkin waffles. I know, I know, I could always buy a pumpkin and puree it myself. It would even taste better. But that involves some serious knife skills, and according to Alton Brown, takes an hour and 57 minutes. So, I hoard.
And speaking of pumpkin, yesterday was the first glorious day of October! It rained all day, which tricked me into thinking (about 8 times throughout the day) that I would walk out of the office or something and be met with a crisp, cool breeze and Julie Andrews picking apples while singing with the birds. Instead, it was so humid that my clothes clung to my skin and my hair grew to epic proportions as my car was nearly attacked by a flock of possessed crows. So I daydreamed instead, and came up with what I wanted to bake that miserably humid evening (seriously, though, Southern Louisiana, get with it). I was going to make a classic blondie and put some of my pumpkin stash to good use!
Blondies are the middle child of the brownie family. They are often ignored and overlooked, and it's quite sad – but at the same time, how can you blame the parents? Brownies are delicious. Case in point, last week's cheesecake-swirled fudge brownies. But blondies are divine in their own right. They taste like a really gooey, chewy, deep-caramel sugar cookie and are a brilliant canvas for amazing creations. They are easy to make, and they'll please anyone with a sweet tooth (even chocolate lovers)!
I decided to show the classic blondie a little love by giving her some pumpkin and spice highlights and getting her in the mood for Halloween and falling leaves and scarves. As soon as I got home, I melted some butter and whisked in lots of brown sugar and vanilla to get things going. Between layers of the blondie batter, I swirled a pumpkin concoction I threw together by blending in some cinnamon, cloves, and nutmeg with some brown sugar and tossing all that deliciousness with some pumpkin puree. Yum. (Note: I just eyeballed everything for the pumpkin swirl and added things to taste – the recipe below lists approximations, but I encourage you to start with the amount of brown sugar and spices you think you'd like and just add if you need more!)
They tasted incredible. The spices really took the blondies to another level, adding lots of warmth and tasting like the holidays that are just around the corner. These blondies are dense and gooey (made even gooier by the pumpkin swirl), and definitely a crowd pleaser! Perfect for fall evenings when you want a quick treat. I drizzled the tops with a quick vanilla glaze, but I'm sure these would be amazing still warm and topped with vanilla ice cream.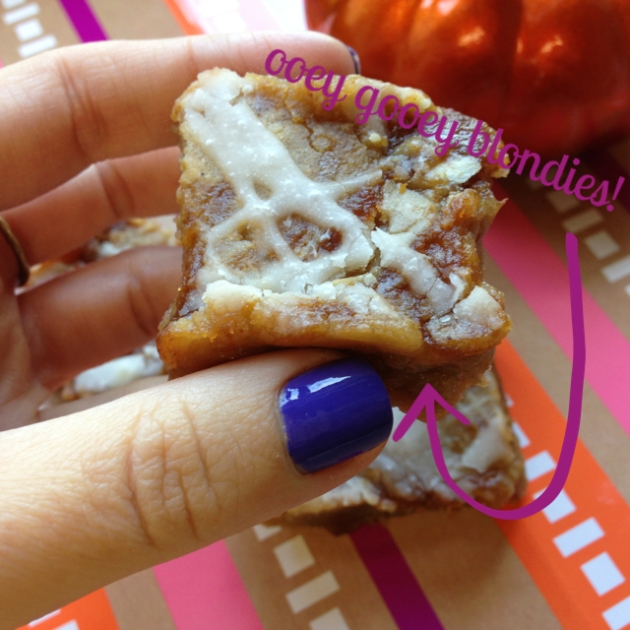 pumpkin-and-spice swirled blondies
(makes 16 2×2 inch squares)
ingredients
blondie batter
8 tablespoons unsalted butter
1 cup brown sugar (I used light)
1 egg
1 teaspoon vanilla extract
1 cup all-purpose flour
pinch of salt
pumpkin-and-spice swirl
4 Tablespoons pumpkin puree
2 Tablespoons brown sugar
½ teaspoon cinnamon
pinch of nutmeg
pinch of cloves
vanilla glaze
3 Tablespoons confectioner's sugar
milk (add a few drops at a time)
a few drops vanilla extract
directions:
1. Preheat oven to 350°. Spray an 8×8 inch baking pan with nonstick spray.
2. In a medium saucepan, melt butter and remove from heat. Whisk in sugar and mix, then adding the egg and whisking well. Add vanilla extract.
3. Whisk in the flour and pinch of salt. Set saucepan aside.
4. In a small bowl, mix together all pumpkin-and-spice swirl ingredients.
5. Pour half of the blondie batter into the prepared pan. Dollop some of the pumpkin mix and swirl. Add the second half of the blondie batter, dolloping the rest of the pumpkin on top of that layer and swirling as well.
6. Bake for 20-30 minutes or until set.
7. Once cooled, whisk together the confectioner's sugar, milk, and vanilla extract until they are a consistency you can drizzle. Add milk a few drops at a time and whisk in between.
Enjoy!
R
Advertisement
Share this:
Like this:
Related