I can no longer count how many times I have made these brownies. These specific brownies. And every time I make them, it's like I am tasting them for the first time – and like I've never tasted chocolate. Or a brownie. Or any kind of dessert. It's as if my memory of the last few years just gets wiped out and nothing exists except these fudgy squares of pure, utter decadence. They are seriously so freaking good, I don't know what to do with myself. Actually, I do – I know to grab a plate and start eating.
Allow me to apologize for the few pictures in this post and the absolute lack of artistry. I made these brownies pretty late last night, and since I use my trusty iPhone to take pictures (I am hoping to buy a real, nice camera one day and take this more seriously!), I had to wait until today to take pictures in some natural light. The same way you never want to look at yourself in a dressing room mirror because of the horrid lighting in there, you never want to take foodporn shots under the glaring fluorescent in your apartment kitchen. And because I had to wait until daylight, I was forced to take these pictures in the office kitchen…showing up late would have been awful. Can you imagine? "I'm so sorry, the fudge took forever in hair and makeup."
But I tried my best. How could I post this recipe and not show you how incredible they will turn out when you make them? I bet you couldn't tell just by looking, but these brownies come from a simple, humble recipe and take all of 10 or so minutes to put together (I can probably do this in my sleep, it's so simple). And then you pop them in the oven for about 40 minutes and try not to go crazy as the tempting, craveable scent of chocolate comes tapping on your shoulder while you're trying to respond to emails. Once the brownies have cooled, your teeth will sink into a thick pillow of rich, deep chocolate sweetness, and at the same time, the slight tang of the cheesecake swirls will both cut through that and accentuate it. By starting off your baking by melting together chocolate and butter, you're setting yourself up for amazingness. Adding a thick, delectable swirl of cheesecake? Forget about it – you're money.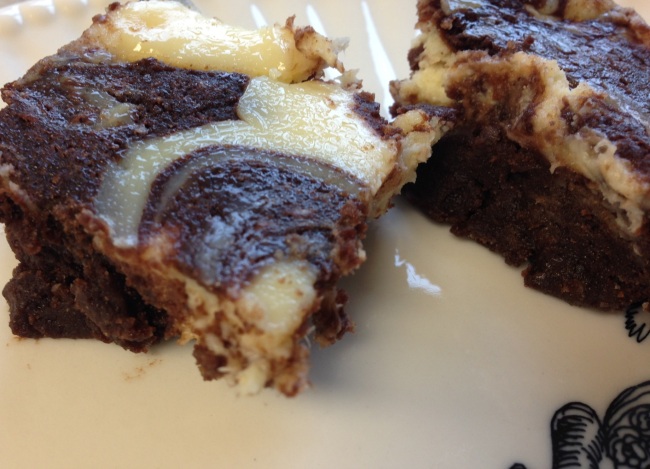 Since I'm a half-baked cookie lover and peanut butter/frosting addict, I prefer very, very fudgy brownies – the kind that stick to your plate (and the roof of your mouth). If you like slightly less fudge and something that's easier to cut and take out of the baking dish more neatly, use the higher amount of flour I list in the recipe below. I've made these brownies both ways, and either way you will end up with brownie-like brownies, not cake. Not to worry. The one with more flour is probably better for sharing and serving, and the other is great if it's for you and people who won't judge you for your obsession with fudgy texture.
cheesecake-swirled fudge brownies
(the glorious deb perelman, who adapted these from an old Gourmet issue)
makes 16 2×2 inch brownies
ingredients
brownie layer:
½ cup unsalted butter, cut into pieces
3 ounces unsweetened chocolate, chopped
2 eggs
1 cup granulated sugar
⅔ cup all-purpose flour (for super fudgy brownies) or 1 cup all-purpose flour (for…neater brownies)
½ teaspoon vanilla extract
cheesecake layer:
8 ounces cream cheese, softened
1 egg yolk
⅓ cup sugar
¼ teaspoon vanilla extract
directions
1. Preheat oven to 350°. In a heatproof glass bowl over a medium saucepan of simmering water, melt the chocolate and butter, whisking occasionally. Remove from heat.
2. Into this bowl of glory, add the eggs, sugar, flour, vanilla, and a pinch of salt. Whisk until well combined. Pour into a greased 8×8 inch baking pan and set aside.
3. In a separate bowl, whisk together all of the cheesecake ingredients until smooth.
4. Put spoonfuls of the cheesecake batter over the brownie batter and swirl together with a knife.
5. Bake for 35-40 minutes, until the center is just set. Allow them to cool before slicing to make it easier. Devour.
Tip: Store leftovers, covered, in the fridge.
R
Advertisement
Share this:
Like this:
Related