I gave my sugar jar a break today. It was completely empty by Friday night (it was an emotional moment for me), and although I replenished it yesterday, I took the hint. Time for some savory things to be featured on this little blog. The weather here has finally cooled down a little bit (I'd like to think it was my apple and pumpkin themed baking last week – in my deluded mind, my rain dance worked). It rained all day yesterday, and when I stepped out this morning, it was actually chilly!
I hear we'll be back to low 90s tomorrow. *sigh*
This Sunday afternoon involved laundry, mail, and other really sexy things. I had no desire to leave the house and felt perfectly content being a little lazy in a sweater and no shoes. That being said, I wanted to make something that involved little effort and thought. I certainly was not going to mess around with yeast. I will say, though, if baking with yeast intimidates you, it shouldn't at all! I'll be featuring a few foolproof recipes soon that involve baking with it – all it really does is add some wait/prep time to your baking (and makes for a wonderfully light and airy texture). Today, I just wanted bread fast.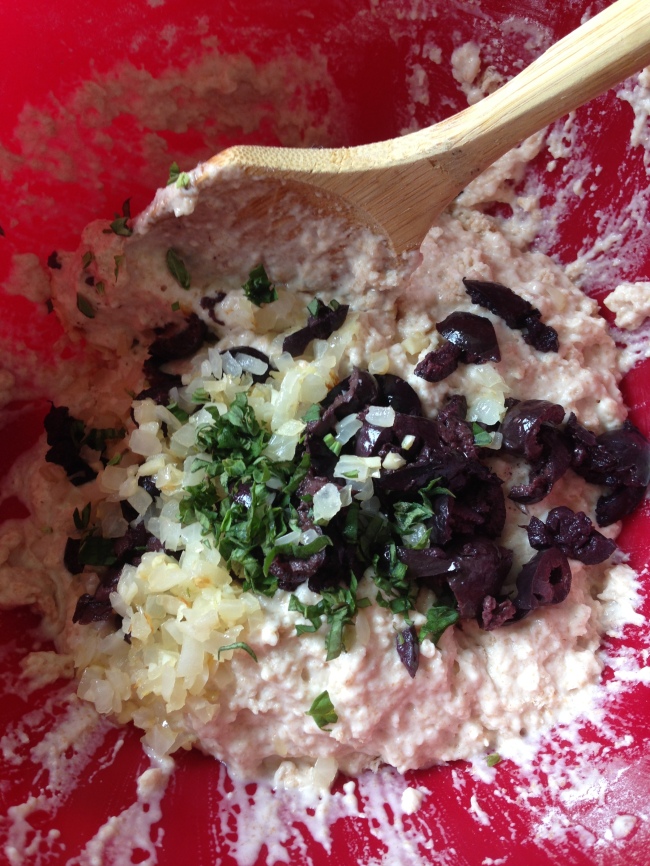 A quick bread uses leaveners like baking soda or baking powder instead of yeast, which makes for a more dense texture (although it certainly is still light and has a wonderful crumb to it). Instead of waiting hours for your dough to rise, you can whip up a loaf of quick bread in 10 minutes, and your house will smell AH-mazing not long after.
I am a huge, huge fan of olives, and I think Kalamata olives are heavenly. Such a strong olive taste. If you don't like them, we can't be friends anymore just leave them out of your dough, no big deal! The garlic, onions, fresh oregano, basil, and Parmesan add a lot of flavor themselves, so your bread will still be hearty and absolutely delicious.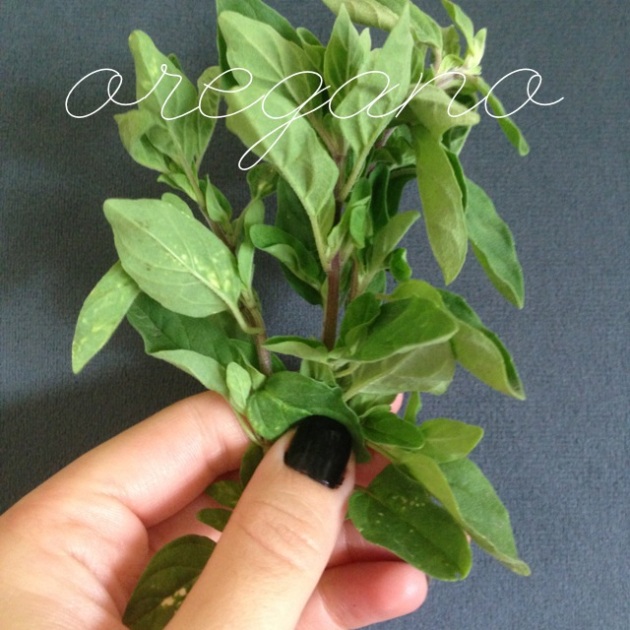 I made some major changes to this recipe (adding whole wheat and Parmesan, throwing in some garlic and basil) but loved how it turned out – it was incredible when it was still warm with a tiny pat of butter that melted right in. The flavors of the olives and whole wheat are so satisfying, and you can taste the Parmesan peeking out. Serve this loaf with a soup or stew and park yourself in front of a good movie. Keep leftover bread in a big Ziploc bag or airtight container (Monday update: it was still moist and wholesome and delicious the next day!). I have never tried to freeze this loaf in particular, but I'm sure it would freeze well – next time, I will probably throw some wrapped slices into the freezer and have some ready whenever I feel like having some lightly toasted with an olive oil-balsamic dipping sauce.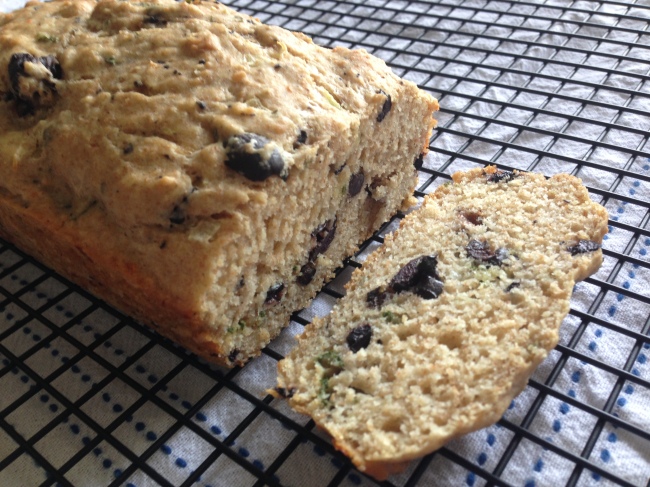 parmesan-kalamata quick bread
(adapted heavily from Cooking Light)
ingredients
⅔ cups whole wheat flour
1 ⅓ cup all-purpose flour (you could use 2 cups all-purpose flour and omit the whole wheat if you don't have it)
⅓ cup grated Parmesan cheese
1 teaspoon baking soda
½ teaspoon Kosher salt
½ Tablespoon olive oil
¼ large onion, diced
1 large clove of garlic, minced
1 cup buttermilk
2 Tablespoons canola oil
6 Tablespoons 100% liquid egg whites (or two egg whites from two large eggs)
⅓ cup pitted Kalamata olives, chopped
1 Tablespoon chopped fresh oregano
1 Tablespoon chopped fresh basil
directions
1. Preheat oven to 350°.
2. In a large bowl, toss together both kinds of flour, the Parmesan cheese, the baking soda, and salt. Set aside.
3. In a small pan on medium heat, heat up the olive oil and sauté the onions until translucent. Add minced garlic and stir, cooking for one more minute.
4. In a small bowl, mix the buttermilk, canola oil, and egg whites. Pour this mixture into the big bowl of dry ingredients and stir just until combined.
5. Fold in the garlic and onions, olives, oregano, and basil.
6. Spray a 9×5 loaf pan with non-stick cooking spray and spread the dough evenly into the pan.
7. Bake for 40 minutes, or until a toothpick comes out clean from the center. Cool in the loaf pan for 10 minutes and then turn out the bread onto a cooling rack. Enjoy!
R
Advertisement
Share this:
Like this:
Related