We need to talk about these cookies.
We really need to talk about them.
I spent my lunch break yesterday craving cookies and dreaming up my next batch – yes, even while I was already eating. I knew I was going to whip up a batch of some as soon as I got home, but I had no way to predict the brilliant (if I may say so) idea that would hit me after thinking about it for a little bit. Being a girl isn't always fun or pleasant. And there are certain days you just want to inhale everything salty in the pantry while consuming everything sweet, carb-y, and chocolate-y you can get your hands on. These days make for the best of ideas, you see.
I decided I was going to crazify the classic white chocolate-macadamia nut cookie and throw in some crushed up salty pretzels.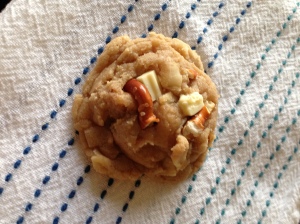 As soon as I got home, I threw together some flour, brown sugar, eggs, vanilla – the classic stuff. Then I chopped up half of a Ghirardelli white chocolate bar, a handful of mini salted pretzels, and some macadamia nuts roasted with sea salt. As soon as I ran elaborate tests to make sure the eggs I used were safe to consume uncooked, tasted the raw dough, I knew I had hit the cookie jackpot. So. Flipping. Good.
Although I used both salted macadamia nuts and pretzels, the saltiness didn't overpower the deep, almost caramel-like sweetness of the cookie dough. The white chocolate stood out on its own, too, adding another layer of sweet flavor. Every bite has chewy and crunchy, salty and sweet, working together in a perfect balance of harmony and contrast. I am typically a fan of contrasts in textures and in flavors, so to me, this was the ultimate cookie! You've got to be a fan of salty 'n' sweet to love these guys – and if you are, grab some butter and get chopping!
white chocolate chunk, macadamia nut, and pretzel cookies
(makes about 2 dozen)
ingredients
2 cups all-purpose flour
1 teaspoon baking soda
½ teaspoon salt
¾ cup (1.5 sticks) unsalted butter, at room temperature
¾ cup light brown sugar
¼ cup granulated sugar
1 egg
2 teaspoons vanilla extract
about ½ cup white chocolate chunks or chips
about ½ cup chopped mini pretzels
about ¼ cup chopped macadamia nuts

directions
1. Preheat oven to 325°.
2. In a small bowl, toss together the flour, baking soda, and salt. Set aside.
3. With an electric mixer in a separate bowl, cream together the butter and both sugars until light and fluffy.
4. Add the egg and vanilla extract, beating just until incorporated.
5. Add the dry ingredients to the butter/sugar/egg/vanilla mixture and beat just until incorporated.
6. Using a wooden spoon or spatula, stir in the white chocolate, pretzels, and nuts.
7. Drop about two tablespoons of dough for each cookie onto baking sheets. Bake for 11-12 minutes.
I found these completely and utterly irresistible straight out of the oven, but the next day, they were still incredible. I put out a plate in the staff kitchen and they were gone by 9:15 am. If you somehow manage to have leftovers, the cookies should keep well in an airtight container for a few days.
Enjoy!
R
Advertisement
Share this:
Like this:
Related