This weekend's baking was my pathetic attempt at a rain dance of sorts. You see, I was trying to summon fall. It is mid-September, but Louisiana has yet to receive the memo. All I want to do is wear a cardigan and drink hot chocolate without suffering heat exhaustion. While we wait, though, we could pretend it is already fall and bake with apples!
The humble Granny Smith apple is The Apple of All Apples when it comes to baking – it works well in pies, breads, and crisps. It is also the only apple I'll happily eat raw as a snack. I love how crisp, crunchy, and tart Granny Smiths are, and they are the perfect contrast to creamy and wholesome things, like peanut butter and muffins.
This recipe has half whole-wheat and half white flour, making these muffins perfect for breakfast. There is no butter whatsoever in these muffins (except a measly little tablespoon in the streusel topping), curbing any potential guilt you might feel when eating more than your share! The muffins are not overly sweet, either, which I loved. Each bite is full of amazing apple-cinnamon flavor without putting these muffins squarely in the really-sweet-dessert category.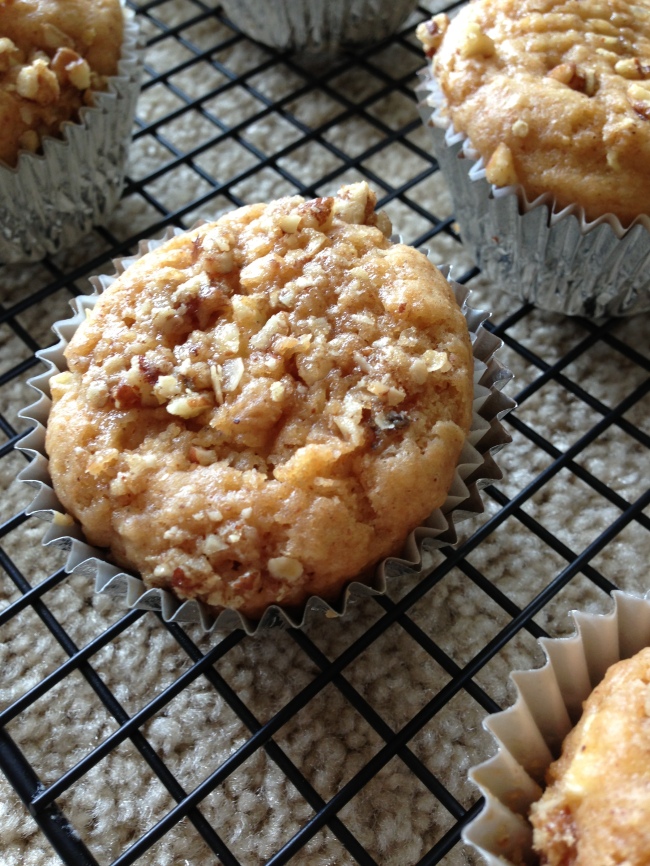 While the streusel topping is completely optional, it is absolutely delicious! A pat of butter is cut into chopped pecans, oats, and brown sugar and baked right on top of these incredibly moist (ewwwww, the M-word) muffins, creating a crunchy little lid that is to die for. I would probably double the amount next time – it's got to be the best part!
The moral of the story, kids, is if you are craving fall (or actually living it, you lucky duck), make these muffins! They are relatively healthy, super quick to make, and taste incredible right out of the oven. I put a bit of peanut butter on one – gahh, so good!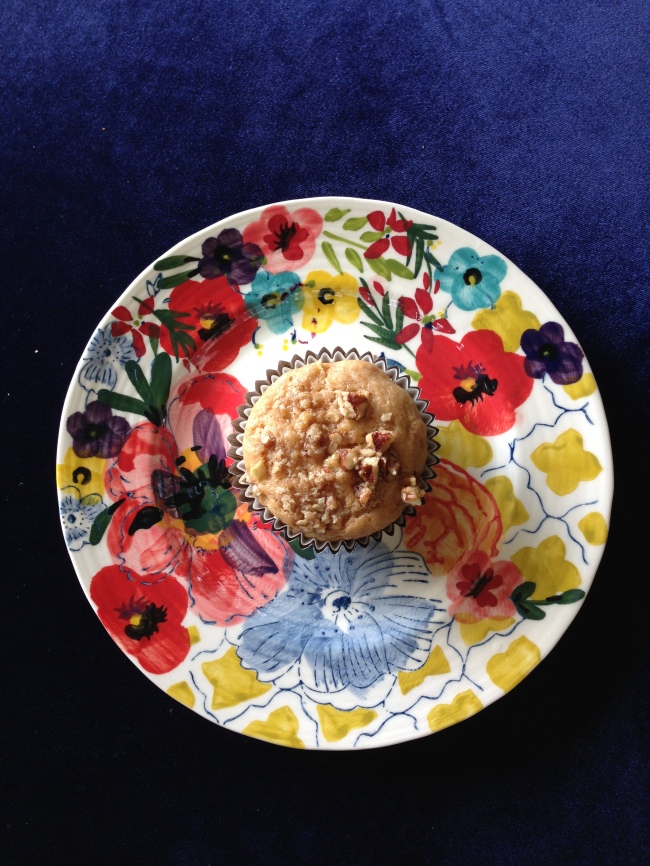 whole wheat apple muffins with pecan streusel
(makes 12)
ingredients
muffins:
1 cup whole wheat flour
1 cup all-purpose flour
⅓ cup brown sugar (packed)
1 teaspoon cinnamon
¼ teaspoon nutmeg (optional, but delicious)
2 ½ teaspoons baking powder
¼ teaspoon salt
1 cup buttermilk
2 eggs, lightly beaten
2 Tablespoons canola oil
1 small Granny Smith apple, peeled and chopped into small pieces
streusel:
2 Tablespoons chopped pecans
1 Tablespoon oats
1 Tablespoon brown sugar
1 Tablespoon butter
directions:
1. Preheat oven to 375°. Line a standard-size muffin tin with baking cups and coat the inside of the cups with nonstick spray. You could do without the baking cups – just spray the muffin tin directly.
2. In a large bowl, mix together both flours, brown sugar, cinnamon, nutmeg, baking powder, and salt.
3. In a separate bowl, mix together the buttermilk, eggs, and canola oil. Add this mixture to the dry ingredients and stir until just incorporated – the batter will be a little lumpy, and that's ok!
4. Fold in the apples.
5. Divide the batter equally among the 12 muffin cups.
6. In a small bowl, combine the pecans, oats, and brown sugar. Using a pastry blender or fork, cut the butter into this mixture until it all looks like coarse crumbs.
7. Sprinkle the streusel on top of all the muffins.
8. Bake for 20 minutes, or until a toothpick comes out clean. Cool muffins on a wire rack for 5 minutes, and dig in! Store any leftovers in an airtight container.
Enjoy!
R
Advertisement
Share this:
Like this:
Related