Every fall for the first few years of grad school, I would visit Sawsan, one of my closest friends, in New Jersey, where she moved when we graduated from college to go to grad school in New York City. To be honest, we spent 90% of our time in New York City each time I visited. We would wake up early, put on really cute outfits, and hop on the train to get to that amazing city – there is just something about NYC that makes my heart beat a little faster! It could be the food, Broadway Shows, the shopping, the sense of purpose it gave me, the fascinating people, the sheer electric and exhilarating feeling you get while walking those streets. I don't know…just a guess.
During the last time I visited her, we went to one of the three chapters of Alice's Tea Cup. Obsession. Mismatched vintage plates and teacups, playing cards, even a teacup full of glitter with a brush so you can dab it on your nose, like we did. Besides the endless and intriguing tea options, they have full service tea menus where you can get sandwiches, cookies, and scones all in a tower of deliciousness. We opted for tea-infused burgers (yes) with what were surprisingly the best French fries we had ever had, and obviously, we had our chocolate chip scones and spiced hot chocolate before dinner. Yum. Definitely worth a visit the next time you are in that fabulous city – and if you live there, can I please come over and play?
As I was whipping up these scones a couple nights ago and ending my day with a scone and some tea, I couldn't help but remember all the fun Sawsan and I always had in New York. These scones have whole wheat flour, oats, fruit, and minimal sugar – and they are completely delicious. I threw in plums and blueberries because I had those on hand, and their flavors worked wonderfuly – the slight tartness was a great contrast to the wholesome oats and whole wheat flour, and they added a hint of natural fruit sweetness that was to die for. They are anything but dry and were incredibly satisfying (Note: I wouldn't use much more whole wheat than the recipe says – you will end up with dense, heavy scones). I have had a few too many dry scones in my life to make my own and have them come out dry! Where I used sweetened vanilla almond milk and didn't add sugar, you can use regular milk or even buttermilk and add about a tablespoon of sugar.
One of my favorite things about making scones is, you don't have to wait for the butter to soften! In fact, it should be as cold as possible while you cut it into the dry ingredients. One thing I dislike about scones is (and it is terribly hard for me to throw scones under the bakery bus), you have to eat them fresh – they are not terribly good the next day (sometimes I'll heat one up in the oven and it's edible, but there is nothing like a fresh scone hot out of the oven, if you ask me). If you ever need to, you can prepare everything ahead of time, cut the scones, and freeze them on a covered baking sheet – you can pop them in the oven the next morning and they will be wonderful.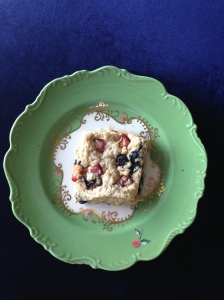 blueberry-plum scones
(yields about 9)
ingredients
1 ¾ cups all-purpose flour
½ cup whole wheat flour (plus extra of either type of flour for dusting)
½ cup quick-cooking oats
1 heaping Tablespoon of baking powder
½ teaspoon salt
¾ cup cold unsalted butter, cut into cubes
½ cup milk (any kind will do – you may need more or less, so have extra on hand)
2 plums, cut into ½ inch cubes
a palmful of blueberries (so accurate and scientific)
directions
1. Preheat oven to 400° and butter a large baking sheet.
2. In a large bowl, whisk together both flours, the oats, the baking powder, and salt.
3. With your hands or a pastry blender (a much better option – you can try forks, too), cut the butter into the dry ingredients until the mixture is coarse and crumbly. The butter should be in tiny but still discernible pieces.
4. Using a rubber spatula or wooden spoon, stir in the milk until the dough is somewhat soft. I found I needed a bit more than ½ cup of milk to get the consistency I liked. You should not add so much that you get sticky dough.
5. Fold in the blueberries and plums.
6. Dust your countertop with flour and pat the dough until it is about 1 ¼ inch thick. With a knife, cut the dough into scones about 3 or 4 inches on each side. I wanted rustic scones so cut a bit more randomly and ended up with some triangles and some squares.
7. Place on the baking sheet about an inch apart and bake for 25-30 minutes until light golden-brown. Enjoy with some tea and a good book!
R
Advertisement
Share this:
Like this:
Related