Let me start this off with a confession.
First week and we're already sharing secrets…maybe you should take me to dinner first?
But, anyway, I am kind of addicted to cinnamon. I put it in my oatmeal, French toast, hot chocolate, practically everything I bake, and sometimes even in tomato sauce. I love the way it smells and how it adds an extra layer of flavor without you doing much. (Side note, while making your oatmeal on a Tuesday morning, don't forget that you already put in plenty of cinnamon and then add an extra teaspoonful three minutes later. It might be a little too much…I'm just saying, you know, as a hypothetical example.)
I am also kind of addicted to baked goods. I bake (and share!) all the time, and I welcome with open arms guest/foreign/wandering baked goods. This, coupled with my aforementioned cinnamon problem, naturally means that I love a good snickerdoodle cookie. Chewy, cinnamon-sugary snickerdoodles – when made right (which, to me, means soft, thick, and with the right amount of cinnamon) – are one of the most simple yet divine treats in existence, especially around the holidays.
Cupcakes are also divine! Rare are the people who do not like cupcakes. I imagine they all get together in an underground lair somewhere – one that is…gray..and sad. And I can hear them complaining about how "cupcakes are just freaking cake, what's all the hype" (big brother, Anthony, I'm looking at you and your Georgetown tirade), but I personally have never seen a cupcake or cupcakery and not smiled.
Anyway, here is a recipe for snickerdoodle cupcakes! The cake itself is fluffy and just the right amount of sweet, with lots of glorious cinnamon swirling its way all throughout. If you need any more convincing, feel free to join the other people in the lair,  all a colleague could say when she had one this morning was, "Sweet Mary." Cinnamon works with so many flavors, but I chose to top the cupcakes with a simple chocolate buttercream. Other suggestions would be a caramel drizzle, vanilla buttercream, cream cheese frosting, or even just fresh fruit with or without whipped cream.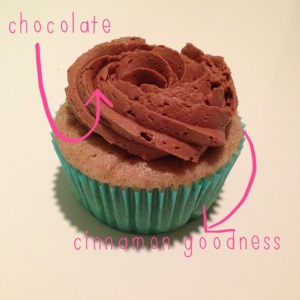 snickerdoodle cupcakes (makes a baker's dozen)
(adapted from martha stewart)
ingredients

¾ cup cake flour
¾ cup all-purpose flour
¼ teaspoon salt
½ Tablespoon baking powder
1 Tablespoon cinnamon (mmm-hmm)
1 teaspoon nutmeg
½ cup unsalted butter (softened to room temperature)
¾ cup granulated sugar
2 eggs
1 teaspoon vanilla extract
¾ cup milk
directions
1. Preheat oven to 350° and line standard-size cupcake tin with cupcake liners. (I had enough batter for a 13th cupcake and felt a little silly putting one liner in the middle of a second tin…oh well. Taste test. Justify it.)
2. In a mixing bowl, whisk together both kinds of flour, the salt, baking powder, and the cinnamon and nutmeg.
3. Using an electric mixer and a separate, large bowl, beat the butter and sugar until light and fluffy. Add eggs one at a time and beat well in between each addition. Add the vanilla extract.
4. Slow down the mixer speed and alternate adding the flour mixture and milk, beginning and ending with the flour.
5. Fill the cupcake liners two-thirds full and bake for 20 minutes. (They may take a tad longer, but as long as a toothpick comes out clean, you're good to go.)
6. Cool the cupcakes and frost with this stuff:
chocolate buttercream frosting

ingredients

1 stick unsalted butter, softened
1 ⅓ cups confectioners/powdered sugar (you can start with a bit less and add more to taste)
¼ cup unsweetened cocoa powder
1 teaspoon vanilla extract
dash of salt
heavy cream (you'll use anywhere between 2 and 6 Tablespoons…I never use the same amount, so just start with 2 and add more if needed)
directions
1. Using an electric mixer, beat the butter and sugar until mixed well.
2. (Slowly!) add cocoa powder, vanilla, salt, and heavy cream and beat until desired consistency. Need it a little thicker? Add some more of the sugar. Thinner? Just add heavy cream a bit at a time.
3. Frost cupcakes and enjoy!
R
Advertisement
Share this:
Like this:
Related