The first thing I ever baked on my own was a blueberry lemon cake, so I guess it's fitting that I share the recipe on this here inaugural blog post. I had grown up watching my mom cook and bake (delicious, sinfully delicious things) almost all day, every day, but I had never made anything on my own. Stalking my mother in the kitchen paid off, though – the cake I made turned out to be absolutely delicious. I remember I took it to my best friend Sara's place one day, and it was inhaled by everyone there. The combination of sweet blueberries and tangy lemon zest is just irresistible to me. Also, I love cake. Usually, I prefer to use cake as a vehicle for frosting, but sometimes simplicity just wins.
This cake fits the bill for a simple, easy, and classic bundt cake. (Side note: Every time I hear, say, or read the word "bundt," I remember the My Big Fat Greek Wedding scene and start laughing a little too loudly. Windex bottles also bring on these random and inappropriate fits.) Fresh blueberries burst into an incredibly thick and rich batter that's infused with lemon zest and a hint of vanilla. Seriously, the batter is so white and fluffy, you will have to exercise some pretty impressive self-control to refrain from eating it all raw. The end result is perfect for an afternoon snack with some tea, but I suppose Monday morning breakfasts could be made a little happier with a cake like this. Breakfast of champions, this creation of butter and sugar is.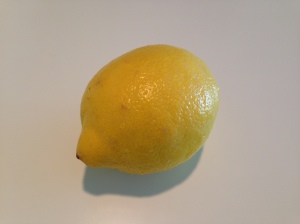 Bare nekkid lemons. ♥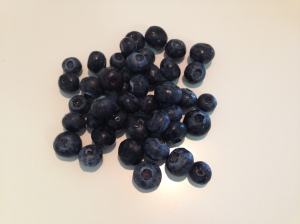 Blueberries right now are perfection – when they're out of season, you could use frozen ones (just don't thaw them out!)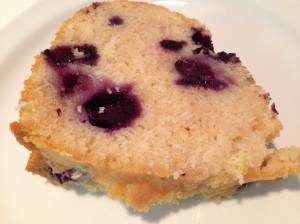 Throw this cake together the next time you're having friends over, and I promise you, there will be smiles. Also, toast yourself a slice the next morning and smile a little , too.
blueberry-lemon bundt cake
(a martha stewart recipe)
ingredients
2 ½ cups all-purpose flour (for cake)
about 1 tsp all-purpose flour (for blueberry mixture – this helps prevent them from making the batter completely tie-dyed)
2 tsp baking powder
½ tsp salt
1 cup unsalted butter, room temperature
1 cup brown sugar (I used light)
1 cup granulated sugar
4 large eggs
1 tsp vanilla extract
1 cup sour cream (you could probably substitute Greek yogurt with no problem)
1 to 2 cups blueberries, depending on your taste (I used 1 ½ cups)
2 tablespoons lemon zest
nonstick spray (you could also go the butter/flour route)
directions
1. Make sure you have one of your oven racks on the lowest 'shelf' in the oven, and preheat to 350°.
2. In a medium bowl, whisk together the 2 ½ cups flour with the baking powder and salt. Set aside.
3. With a hand or stand mixer, beat together the butter and both sugars until light and fluffy (high speed works best). Add the eggs one at a time, making sure each is incorporated before adding the next. Beat in the vanilla extract. Reduce the speed to low, and add the flour mixture in one-third increments, alternating with the sour cream (begin and end with flour mixture).
4. In another bowl, mix the blueberries with the lemon zest and the teaspoon of flour. Fold this mixture into your batter.
5. Coat a bundt pan with nonstick spray, or butter and flour it.
6. Bake on the bottom rack for 60-70 minutes. Mine usually takes about 70 – just do the toothpick test starting at 60 minutes and take it from there.
7. Let the cake cool in the pan for about 20 minutes, then flip it over onto a plate or cooling rack.
Enjoy!
R
Advertisement
Share this:
Like this:
Related