Happy New Year everyone! I was traveling and busy eating my weight in fattoush, but I am back with a killer recipe for what are some of the best baked donuts I've ever had! Think about it: chocolate donuts dipped in a sweet vanilla glaze, topped with crushed Oreo-filled whipped cream, and sprinkled with Oreo chunks. Oh mah gah! I found this recipe through Internet crack (aka Pinterest) and knew it would be the perfect use of the Oreos and heavy cream I needed to use up. (Anyone else buy Oreos for baking purposes only?)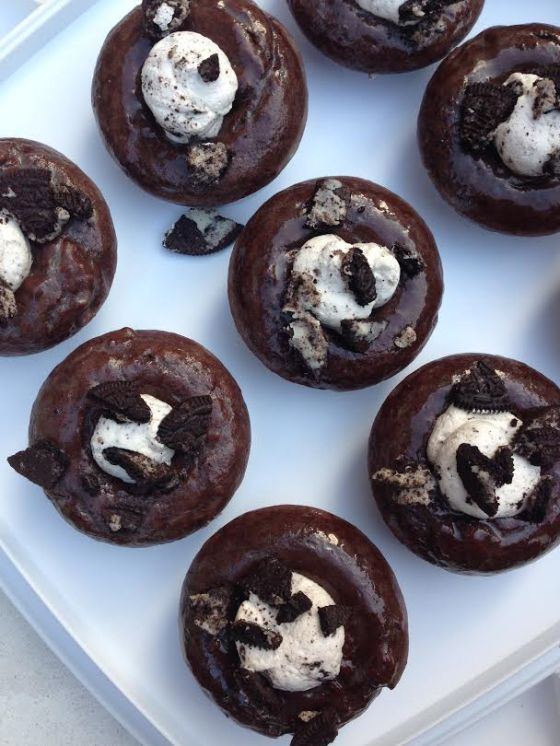 One of the best parts about baking donuts is the minimal mess – have you ever fried donuts? No one likes working with hot oil. Plus, baked donuts are somewhat lighter. Of course, then you top them with all sorts of naughty things like whipped cream and crushed Oreos, but I have a good feeling you're still in January mode and have been going to the gym. These cookies n cream babies are worth the cardio. My donuts ended up looking more chocolatey and much more (m-word alert!) moist than the original poster's, possibly because I used dark cocoa powder and dark brown sugar, and I found the amount of milk listed in the glaze recipe to be too much, but they turned out fantastic!  The donut part is gloriously decadent and chocolatey and fudgy, and the whipped cream and Oreos provide the perfect contrast and extra sweetness. Make these, and revel in the heaven on earth that is cookies and cream.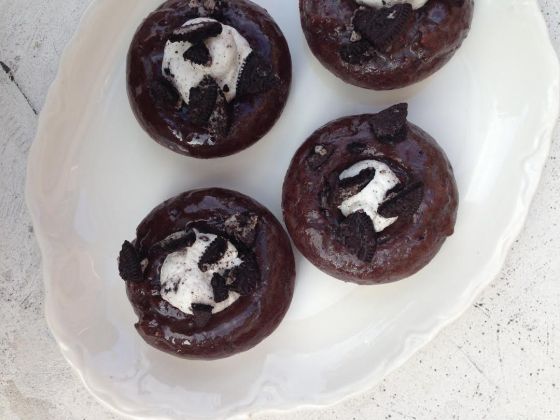 baked cookies n cream donuts
yields about 14 donuts
(recipe via Cooking Classy)
ingredients
for donuts:
2 cups all-purpose flour
½ cup unsweetened cocoa powder
1 teaspoon baking powder
½ teaspoon baking soda
¾ teaspoon salt
½ cup brown sugar
½ cup granulated sugar
⅓ cup canola oil
2 large eggs
1 ½ teaspoons vanilla extract
¾ cup buttermilk
for glaze:
3 ¾ cups powdered sugar
5 Tablespoons of milk (as I previously stated, maybe start off with even less and add as needed)
1 Tablespoon heavy cream
¾ teaspoon vanilla extract
8 Oreos, crushed
for whipped cream:
1 cup heavy whipping cream
3 Tablespoons powdered sugar
2 Oreos, finely crushed
directions:
1. Preheat oven to 350°. Coat your standard-size donut pans with nonstick spray or softened butter and set aside. (If you have just one pan, you can bake in batches; just let the pan cool completely between rounds.)
2. In a large mixing bowl, whisk together the flour, cocoa powder, baking powder, baking soda, and salt until well combined. Create a well in the center. In a separate mixing bowl, whisk the brown sugar, granulated sugar, oil, eggs, vanilla, and buttermilk until smooth.
3. Pour the wet ingredients into the bowl of dry ingredients and mix with a wooden spoon until well combined.
4. Use a pastry bag (or spoon, just take it slow!) to divide the batter evenly among your donut wells, filling them ¾ of the way. Bake donuts for about 12 minutes, until a toothpick comes out clean. Turn out the donuts on a wire rack for them to cool completely.
5. While your donuts are cooling, make the glaze by whisking together all the ingredients. Set aside.
6. In the bowl of your stand mixer fitted with a whisk attachment, beat the whipping cream until soft peaks form. Add in the powdered sugar and continue to beat on high until stiffer peaks form. Fold in the 2 finely crushed Oreos.
7. Dip each cooled donut in the glaze, then pipe some of the whipped cream into the donut hole. Top each donut with some crushed Oreos.
8. Serve immediately – you can store leftovers in the fridge in a tightly covered container.
Enjoy!
R
Advertisement
Share this:
Like this:
Related